Islamabad, June 2017: A two member delegation from the President Centre for Pakistan and Gulf Studies (CPGS) held a four-day successful visit to the Republic of Korea. The delegation was headed by President CPGS, Senator Sehar Kamran (TI) and included Ms. Sundus Ahmad, Editor, Senior Associate at CPGS.
The visit was held at the invitation of the Embassy of the Republic of Korea in Pakistan and the Ministry of Foreign Affairs, Republic of Korea, as part of their "Eminent Persons Program".
The visit was an opportunity to represent Pakistan in a sphere where there has been limited interaction in the past, in an attempt to foster closer ties between the two countries, share perspectives and concerns on matters of national security and economic development, and address the apprehensions of policy formulators and decision makers on both sides.During the course of the visit the delegation held several meetings with the Parliamentarians from the Defence Committee, the Pakistan-Korea Friendship Group, Foreign Affairs &
Unification Committee, as well as senior officials from MoFA RoK, including the DG Korean Peninsula Peace Regime, the deputy DG South Asian and Pacific Affairs Bureau, and the former RoK Ambassador to Pakistan.Meeting at the Sejong Institute with Dr. Sang-Hyun Lee,Vice President Research Planning & President Korean Nuclear Policy Society.
There was also a visit to and a meeting with the President Korean Nuclear Policy Society/Vice  resident Research Planning at the Sejong Institute in Seongnam, and a visit to the headquarters and briefing at the Korea Hydro & Nuclear Power Company Ltd.
The trip also included a visit to the city of Gyeoungju, and a visit to the DMZ.During candid deliberations with the officials of the Republic of Korea, Senator Kamran conveyed the deep regard Pakistan has for the RoK and the Korean people
in addition to highlighting the strengths and the untapped potential of the relationship between the two countries.
Visiting Korean Parliament, National Assembly Hall, RoKThe discussions revolved around strengthening Pakistan-RoK relations in the political, economic, strategic, diplomatic and cultural domain.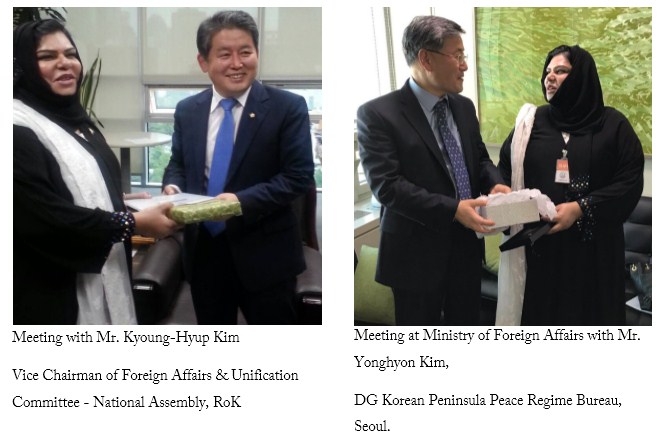 During different meetings it was accepted by both sides that existing gaps in the relations of the two countries must be filled by continuous collaboration and candid exchange of views for a comprehensive understanding of each other's perspectives.
Senator Kamran welcomed a similar visit by the Korean Parliamentarians to Islamabad for strengthening of relations between the two countries in the near future.